Each year, more than 250 million copies of Microsoft PowerPoint produce trillions of presentation slides worldwide [Doumont, 2005]. Many of these presentation slides, which can be overhead transparencies or computer projections, are created by presenters in science and engineering. Because presentation slides reduce the personal connections between the presenter and audience, presenters have to be critical thinkers about when this medium is appropriate and when it is not [Alley, 2003]. Despite this decrease in personal connection, slides are still valuable in scientific and technical presentations, especially when the audience needs to see images or visual relationships to understand the content.

Because of its dominant 95 percent of market share [Parker, 2001], Microsoft PowerPoint and its defaults have greatly affected the design of these presentation slides. For that reason, most slides that are shown in science and engineering presentations have short phrase headlines supported either by bullet lists or by bullet lists and images [Gaudelli et al., 2008]. In essence, this design calls for a topic-subtopic view of the content. Recently, harsh criticism of this design of presentation slides has surfaced in several popular publications: Schwartz, "The Level of Discourse Continues to Slide," New York Times; Parker, "Absolute PowerPoint," New Yorker; Tufte, "PowerPoint Is Evil," Wired; and Keller, "Is PowerPoint the Devil?" Chicago Tribune. A common theme in these articles is that the presentation slides that follow Microsoft PowerPoint's defaults oversimplify the subject matter, sometimes with serious consequences. For instance, in the official investigative report about the Space Shuttle Columbia disaster, Yale professor Edward Tufte argues that traditional slides failed to characterize the risk that the ill-fated Columbia faced from its collision with debris at lift-off [Tufte, 2003b]. Another common theme of these articles is that the design quickly becomes monotonous for audiences, thus making it difficult to recall information.

According to Larry Gottlieb, a presentation instructor at Lawrence Livermore National Laboratory, one failing of traditional slides lies in the use of the phrase headlines that leaves unclear the purpose of the slide [Gottlieb, 2002]. Since the 1980s, Gottlieb [1984] and others [Keedy, 1982; Alley, 2003; Doumont, 2005; Atkinson, 2005; Leedom, 2005] have rejected phrase headlines and, instead, have advocated a short sentence headline that states the main assertion of the slide. Note that just having a headline in the form of a sentence is not enough. As Bob Leedom [2005] states, that sentence has to state the main message of the slide. In fact, one of the Space Shuttle Columbia slides that Tufte critiqued [2003b] had a sentence headline; the problem was that sentence did not at all capture the main assertion of the slide.

Another failing of the traditional design of slides, according to Edward Tufte, is the reliance on bullet lists to provide cogent evidence for assertions [Tufte, 2003a]. As Shaw, Brown, and Bromiley [1998] point out in a Harvard Business Review article, bullets are "too generic," they "leave critical assumptions unstated," and they "leave critical relationships unspecified."


Assertion-Evidence Slide Design: A Successful Alternative

As mentioned, over the past two decades, several people have advocated a slide design that is distinctly different from what Microsoft PowerPoint promotes with its defaults. This alternative slide design features a succinct sentence headline that states the main assertion of the slide. That assertion is then supported by evidence presented in a visual manner. Presented in Figure 2 and Figure 3 are excellent examples of this design. Each headline states the principal assertion of the slide, and each slide body supports that assertion in a visual manner. In each slide body, words are incorporated, but only as needed. Bullet lists are not used.

This assertion-evidence design, which was presented in a November 2005 article in Technical Communication [Alley and Neeley, 2005], addresses the two mentioned weaknesses of the traditional design: unclear main assertion and lack of connections in the evidence. In addition, this assertion-evidence design addresses many of the weak typography and layout defaults of Microsoft PowerPoint. For instance, the new design calls for specific stylistic, typographic, layout, and animation guidelines that have arisen from more than 150 critique sessions, run by Alley, of engineering and scientific presentations at universities, in industry, and at national laboratories. Given in Figure 4 is a contrast of a teaching slide that uses the traditional topic-subtopic design (top) and this new assertion-evidence structure (bottom).

Several advantages exist to using this assertion-evidence design [Alley and Neeley, 2005]. First, the assertion headline, when thoughtfully crafted, more readily orients the audience during the presentation to the purpose of each slide. Second, having a sentence headline allows the presenter to clearly emphasize the most important assertion of the slide by giving that assertion more typographical emphasis than it would receive in a bullet list within the body of a traditional slide. Third, according to Professor Stacy Gleixner [2006] who heads the NSF PRiME project for teaching materials science and who has converted the slides in that project to this design, "Following the design would improve my lectures even if the old slides were projected, because when I create a sentence headline, I think about what main assertion I want the students to remember from that slide. Just that act makes my lectures more focused."

A key assumption about the sentence headline is that the presenter thoughtfully crafts the headline to reflect the main assertion of the slide. This task requires careful thought. For instance, consider a contrast of the much criticized Boeing slide (top) with an assertion-evidence version (bottom). Although the original Boeing slide has a sentence headline, the headline is nonsensical (Tufte, 2003a). The problem with this headline is not its form, but its content.

Visual evidence in the body of the slide also has major advantages over the traditional bullet list. According to Professor Richard Mayer's principles [2001] for multimedia design, audiences learn better from relevant images coupled with words than from words alone. Mayer, a well regarded cognitive researcher from the University of California at Santa Barbara, also asserts that multimedia is more effective when images are placed close to and presented simultaneously with corresponding text. The assertion-evidence design that is advocated by this web page follows these two principles. Moreover, the requirement of a visual representation in the teaching slide design of this study addresses the major weakness of relying on bullet lists: not making clear the connections between details [Shaw et al., 1998]. As was shown in the transformed slide of Figure 4, the unclear relationships among the elements of the topic-subtopic slide (top) are clarified in the assertion-evidence slide (bottom).

Recent experimental tests have shown that the assertion-evidence slide design is superior to the traditional design at communicating technical information to an audience. Studies have shown that using the assertion-evidence design in the teaching slides of a large geoscience course led to statistically significant increases (p < 0.001) in the knowledge and comprehension levels of students of course material [Alley et al., 2005]. Those increases are especially evident when the information to be understood and retained lies in the sentence headline [Alley, et al. 2006]. Figure 6 shows an example of a transformation in a teaching slide that led to a statistically significant increase in test scores for a large introductory course in geoscience, and Figure 7 shows a comparison of the test scores from one intervention [Alley et al., 2005]. The testing occurred between historical sections having the same instructor, room, semester time slot, class size (200 students), and number of projected teaching slides.

Several underlying assumptions exist for when the assertion-evidence design should be used. The first assumption is that slides are, in fact, the appropriate visual aid for the presentation. A common criticism of presentation slides is that the medium is used for presentations in which a different visual aid or, more commonly, no visual aid would be appropriate. A second underlying assumption is that the success of the presentation depends on the audience understanding the content. Generally, when engineers and scientists use this design, they receive more questions than if they had used the traditional topic-subtopic design. The reason is that the audience better understands the content. Yet a third underlying assumption for using the assertion-evidence design is that the slides are a visual aid for the audience rather than a visual aid for the speaker. One allure of PowerPoint that critics cite is that it allows presenters to project their "talking points." The assertion-evidence design, on the other hand, presents only the key assertions of the talk, forcing the speaker to know the content well enough that he or she can speak from the assertions and the supporting visual evidence.

A key disadvantage to using this design is that the design requires more time on the part of the presenter than the traditional topic-subtopic design. Not only is more time required to create visual evidence, but more time is needed to craft a succinct sentence headline that states the main assertion of the slide. A second disadvantage is that the design is more challenging than the traditional topic-subtopic design. To create those sentence-assertion headlines, the presenter has to understand purpose and relative importance of details. Yet a third disadvantage is that because this design is so different from what commonly is projected in meeting rooms, classrooms, and professional conferences, a resistance sometimes arises from co-presenters and supervisors to try a different approach.


Conclusion: Effects of Adoption of Alternative Slide Design

Preliminary research suggests that if engineers, scientists, and technical professionals would adopt this assertion-evidence design for those presentations in which slides are the appropriate medium, the effectiveness of those presentations would increase significantly. Likewise, if educators of engineering and science would adopt this slide design for teaching situations in which presentation slides are an appropriate teaching tool, the comprehension and retention by students in those engineering and science courses would increase significantly, especially if this slide design is used with active learning measures [Alley et al., 2007]. What is needed are more such tests in different disciplines of science and engineering. Also needed are more tests at different levels of Bloom's taxonomy of learning.

This assertion-evidence design demands much more from the presenter than simply following the defaults of PowerPoint. For one thing, identifying the main sentence assertion of each slide requires more thinking than simply identifying the slide's topic word or phrase. In addition, coming up with cogent visual evidence to support each assertion is more demanding than coming up with a bullet list of subtopics for each slide topic. Another hurdle to adopting the design arises from overcoming the weak defaults of PowerPoint for type size, type placement, text anchors, bulleted text, and distracting backgrounds. To help presenters overcome these weak defaults, this web site this web page provides a PowerPoint template that presenters can download and modify.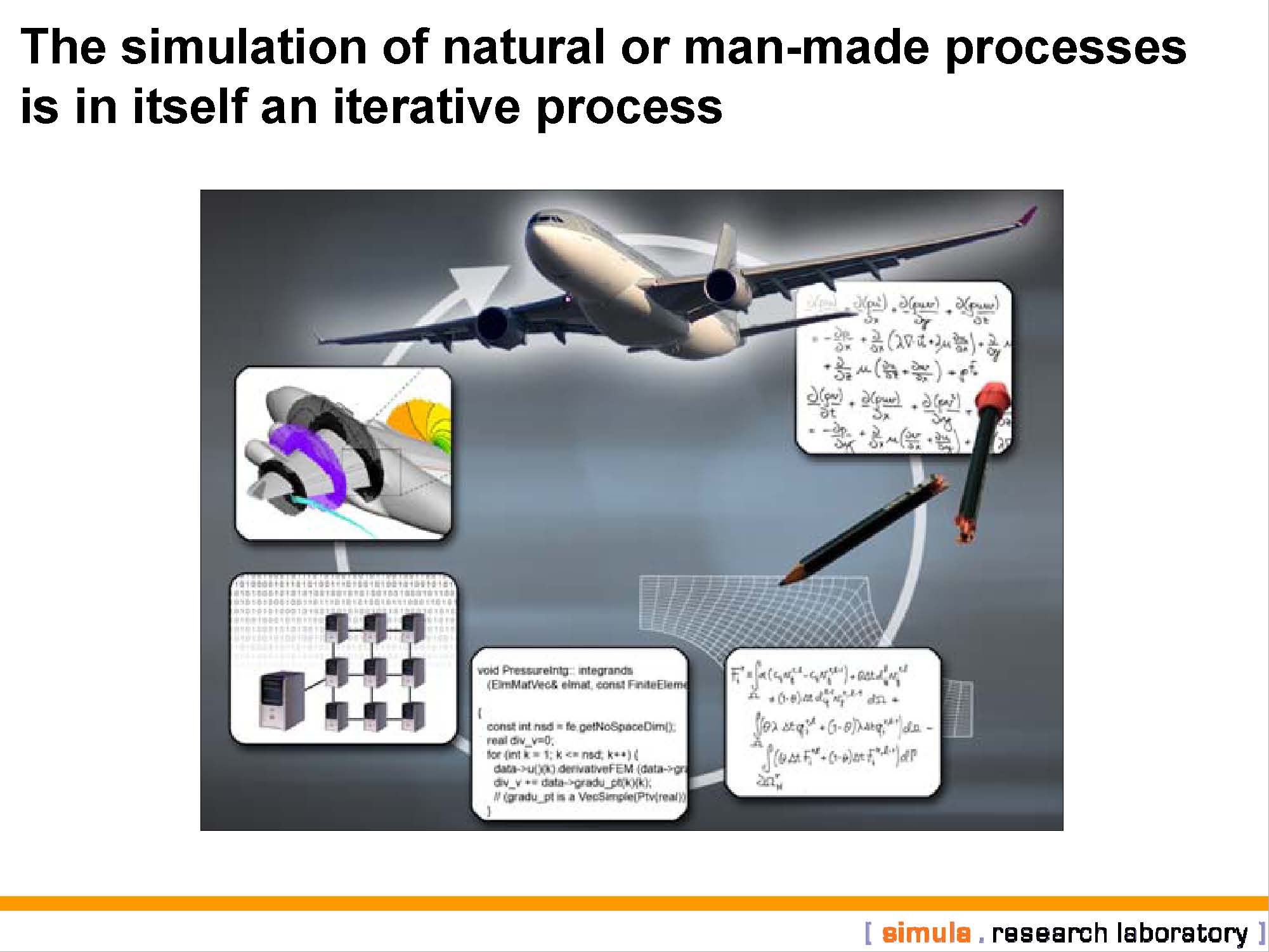 Figure 2. Example of a well designed slide [Bruaset, 2007].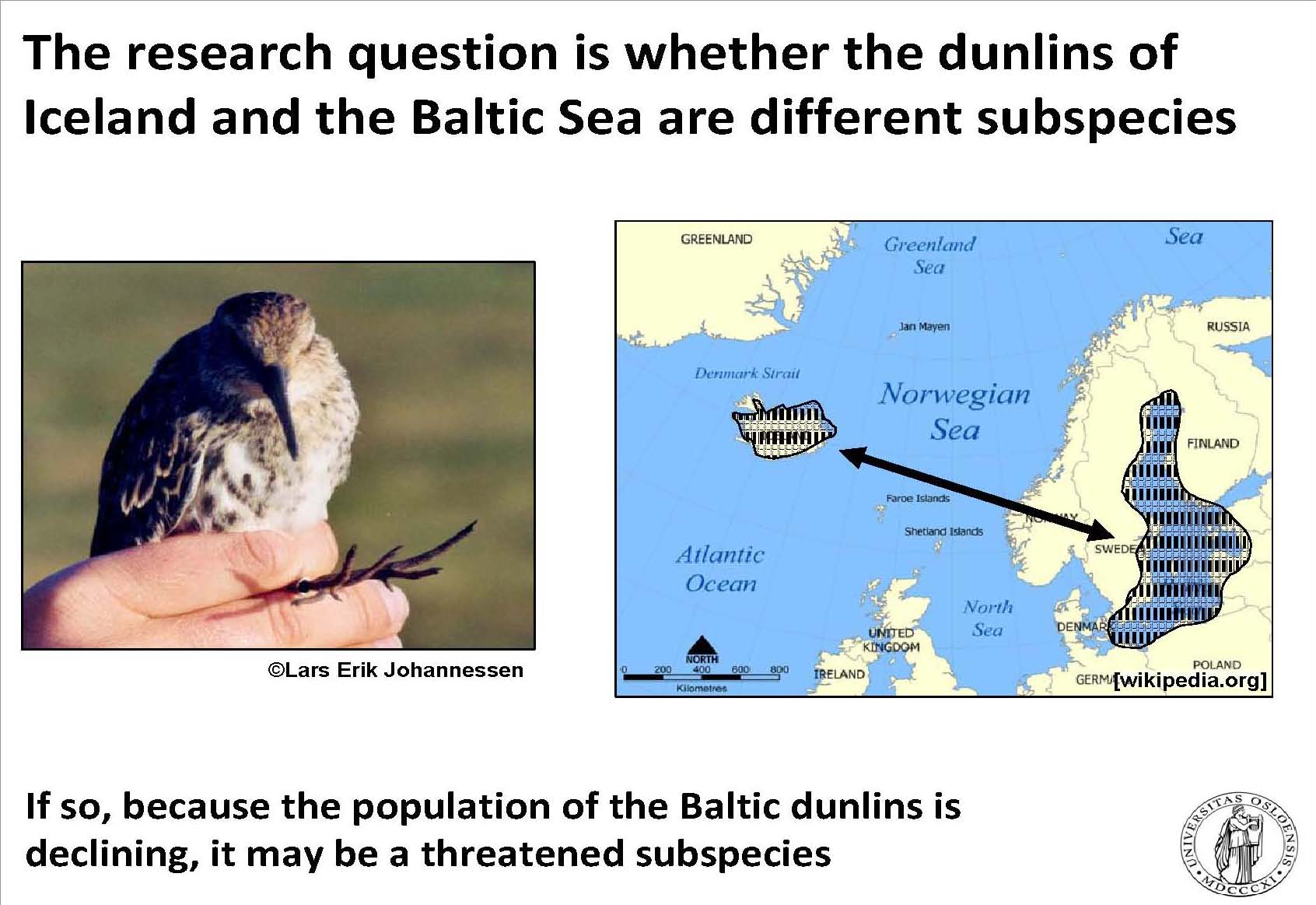 Figure 3. Example of a well designed slide [Marthinsen et al., 2004].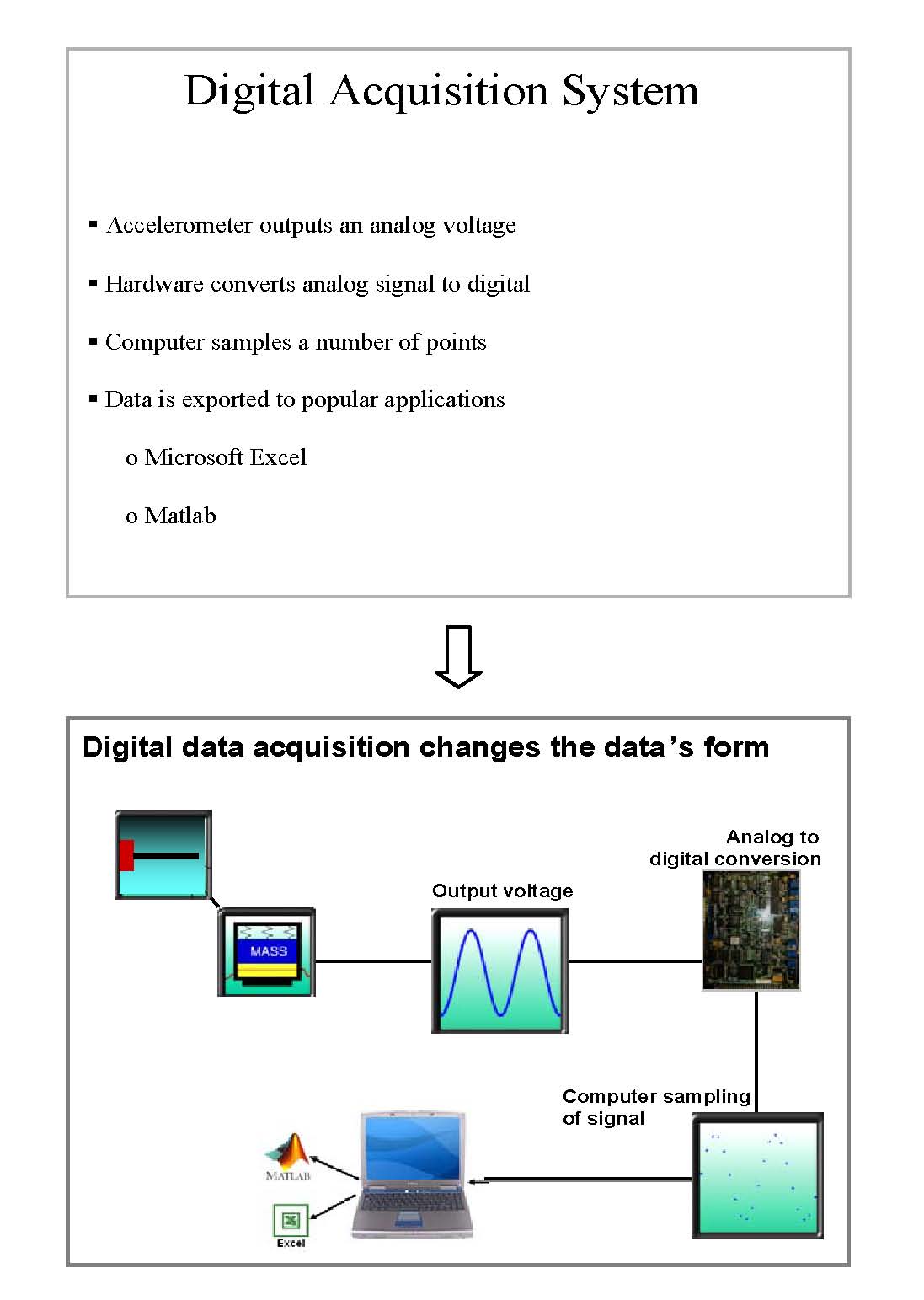 Figure 4. Transformation of teaching slide to A-E structure [Robertshaw, 2004].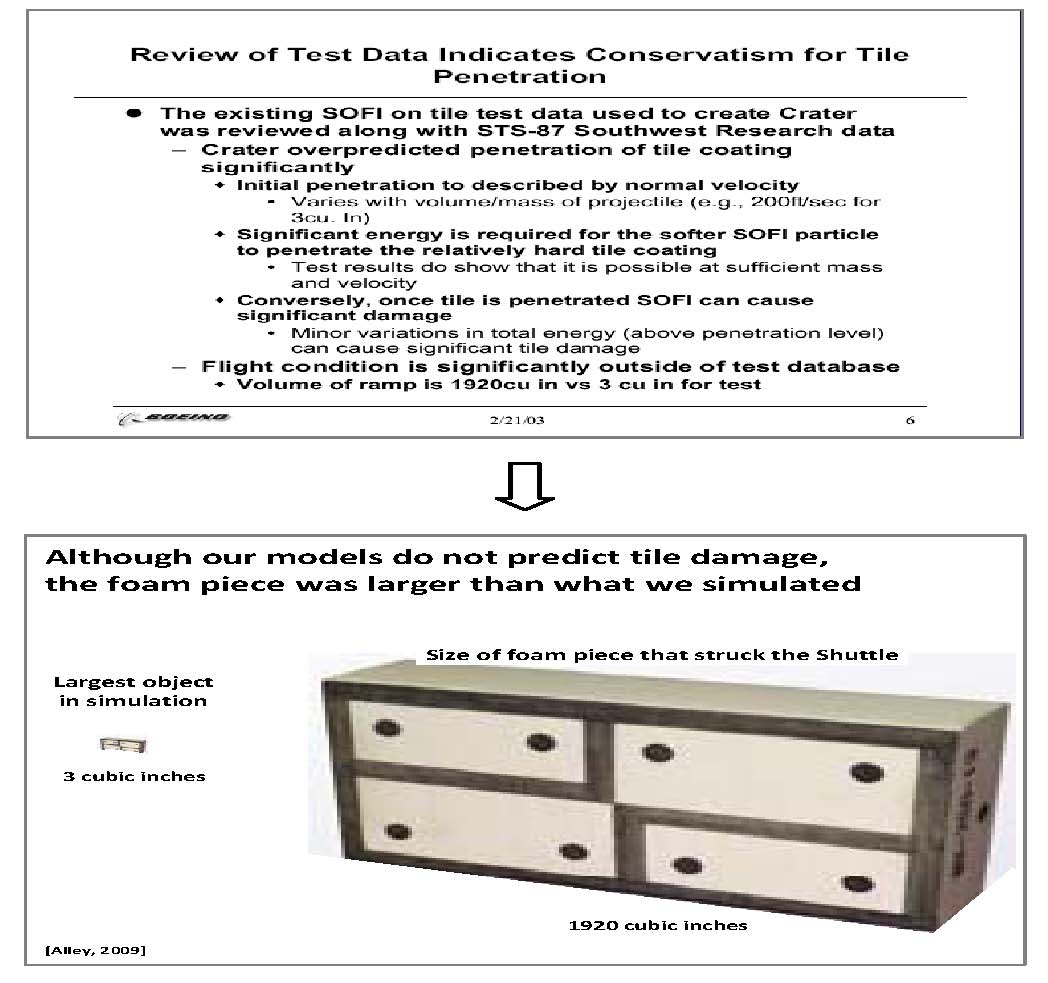 Figure 5. Transformation of much criticized Boeing slide to A-E structure [Alley, 2009].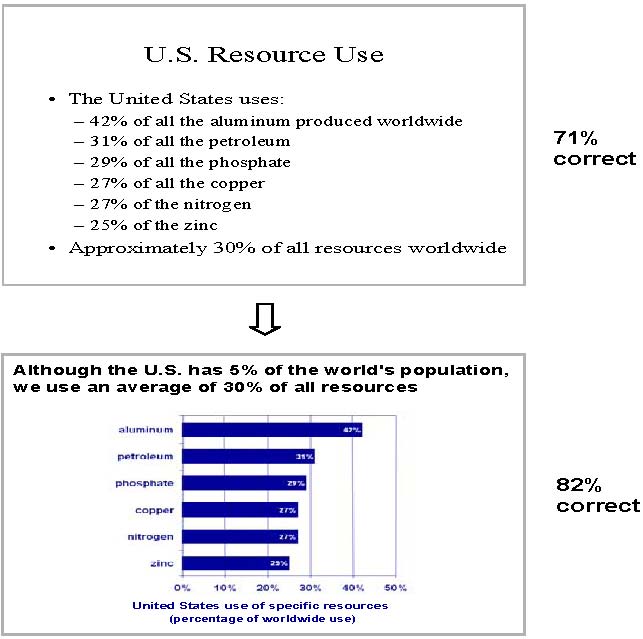 Figure 6. Comparison of test score of 71% for a slide with a traditional design, shown left, with a test score of 82% correct for the new assertion-evidence design on the right: statistical level of significance < 0.05. The test question, which was at the knowledge level of Bloom's taxonomy, asked the 200 students in each section to state how much of the world's resources the United States uses.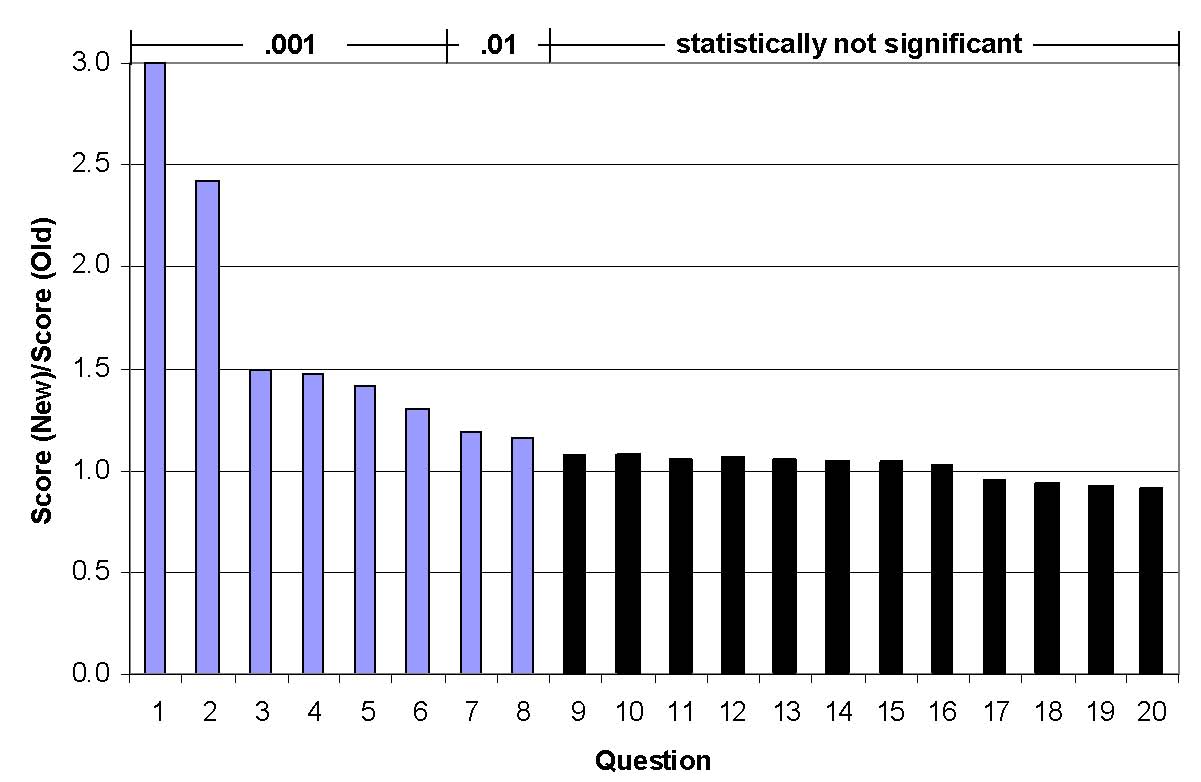 Figure 7. Ratio of the test scores for the group that was taught from the assertion-evidence slides to the test scores of a similar-sized group that was taught with traditional slides [Alley et al., 2005]. Bars 1-8 (light blue) represent significant increases, while bars 9-19 (black) represent differences that were not significant. For these two 200-student sections, the test scores on these identical questions increased from 71% to 80% (p < 0.001). These questions tested students at the knowledge and comprehension levels of Bloom's taxonomy.